Refurbish. Repair. Recover.
All services are preformed by our Certified Apple Technicians
Onsite consulting solutions for your Apple set up and home and office needs
Apple Service Providers performing Apple Repairs with Apple Certified technicians.
Liquid and Water Damage Repair for MacBook, iPhone, and Apple Devices
It happens to so many people. You dropped your iPhone in water.
Putting it in a bag of rice, as you'd read online, didn't work.
You need local specialists in iPhone water damage repair — fast.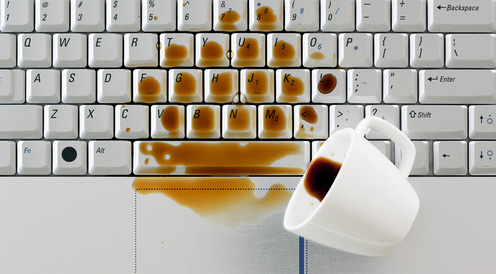 Mactracks has extensive experience with MacBook water damage, iPhone water damage repair, and all other types of liquid damage to your iMac, MacBook, iPhone, iPad, and even vintage Apple computers.
Mactracks Saves You Time, Money, and Stress
Unless you maintain a strict policy of no beverages near your Apple devices, this scenario may sound familiar:
You're up late working on a report and reach for your third cup of coffee for the evening. Or maybe it's an energy drink that's keeping you going.
It slips from your fingers. And, with it, your last shred of sanity and hope of completing the work on time.
Many of us have been there. We're sure even the image on this page gives most iMac users chills. It's the last thing you want to think about.
Fortunately, Mactracks understands.
We will do our best to get your unit back to a functional state at the lowest possible cost to you. If
Mac recovery
is required, we offer that service, too.
Our goal is to get your liquid-damaged Mac or Apple device working again as quickly as possible.
We can even repair MacBook water damage caused by floods.
There's more good news – we can work to clean nearly any type of spill* and get your Apple or Mac device functioning properly again. This includes biohazardous materials like blood or urine.** We won't ask questions; we'll just fix work our hardest to fix your device.
When You Need MacBook or iPhone Water Damage Repair, Do This
When the unthinkable happens and your MacBook, iPhone or other Apple device experiences water damage or damage from any other liquid, shut down the device immediately.
Contact Mactracks for the next steps.
Any further attempts to power the unit on or repair it yourself can cause additional damage, making it harder (even impossible) for Mactracks' certified team of technicians to recover your unit or repair the damage.
We will work to start an evaluation quickly.*** If we repair the water damage to your Mac device, the evaluation fee is factored into the total cost.
Mac water damage? Call
972-442-1545
or
start your service here.
* Please note that we charge an additional fee for any biohazardous material (blood, urine, etc).
** Special precautions must be taken by our certified Apple service technicians to ensure proper health and safety standards are met. Biohazard spills also often require additional tools and materials which are added into the cost of the evaluation and repair.
*** Please note that the evaluation process cannot be expedited due to the nature of liquid damage.